The most sustainable option for an operational base within offshore wind in southern Norway
In 2014, Port of Kristiansand opened a new quay front in Kongsgård as a result of this targeted investment, and only a few days later the first offshore rig was docked. Since then, there has been a significant increase in the number of offshore calls in Kristiansand, and most southerners have become accustomed to seeing the large vessels safely docked in Kongsgård.
For each call, large, positive ripple effects are generated for the region's business community. Everything from large companies that supply offshore cranes, to overnight stays in hotels and to smaller artisan companies become involved in the value chain when an offshore vessel is docked. It is estimated that each port of call generates several million in commissions for the surrounding business community.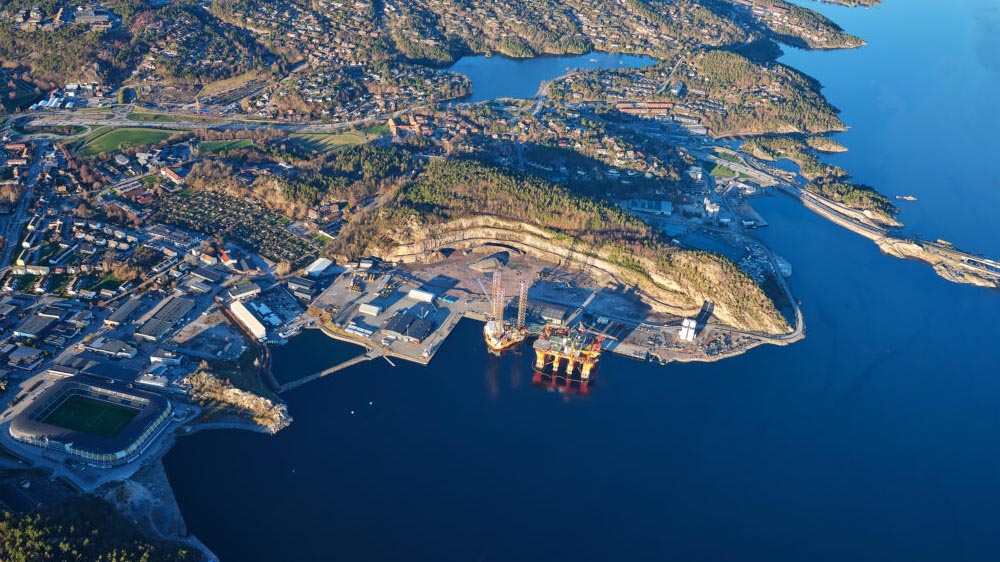 Wind operational base
Pier 35, which is the area the Port of Kristiansand makes available, is currently located within the existing port area, Kongsgårdbukta. The distance from the centre of the Sørlig Nordsjø II field to the Port of Kristiansand is 127 nm. With a cruising speed of 10 knots, it takes a ship 12.7 hours to reach the Port of Kristiansand from Sørlig Nordsjø II.
It is also a short distance from Kongsgårdbukta to the E18/E39, which makes it easy to transport personnel and material. Since the pier is located in an operational port area, this allows for 24-hour operation.
The port area is currently used as our offshore supply port. The area behind the quayside is under development and there is therefore an opportunity now to be involved in designing/developing the area.
Sustainable – Already regulated

35 000 m2 open storage with optional 65 000 m2 storage
Mobile cranes, capacity up to 250 MT
4500 m2 indoor storage
Lifting capacity 40 m above sea level
Quay specifications
The pier that will be available is Pier 35
Height from the water to the pier edge: 3.1 metres

Location: Latitude: 58º 9'
24.6" N Longitude: 8º 2' 7.2"

Water outlets along the pier: 3 points
Power outlets along the pier: 2 x 220 to 690V, 50-60Hz. Total 1,650 KVa
Infrastructure
Kristiansand has an international airport with direct routes to several domestic and international hubs. The direct routes to Copenhagen and Amsterdam make it easy to travel the world. The airport is located about 15 km from Kristiansand city centre
The Sørlandet Line connects Western and Eastern Norway, with a railway line from Stavanger to Drammen/Oslo, where the hub is in Kristiansand. The freight terminal at Langemyr is located along the national road Rv. 9, a short drive from Kristiansand.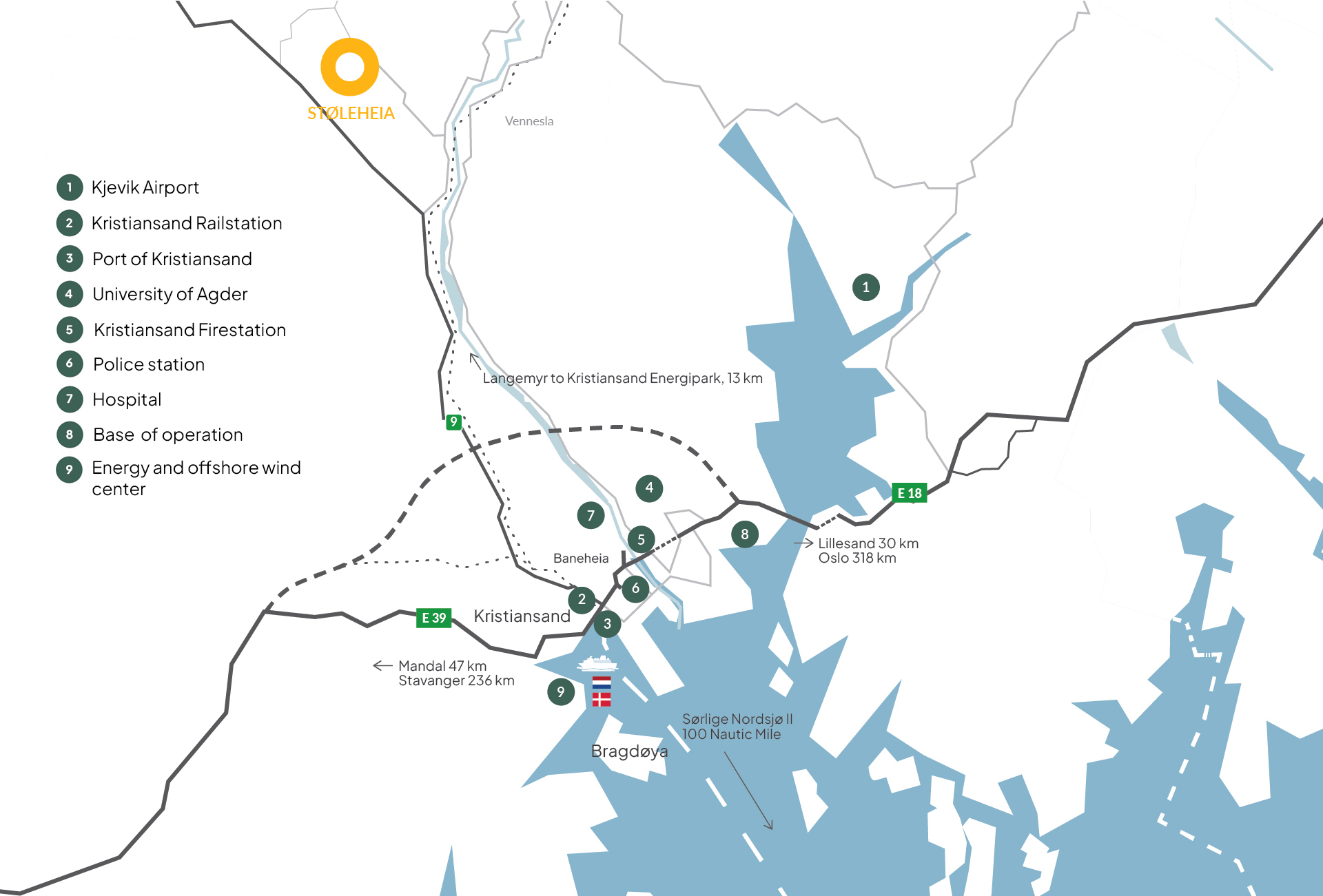 Zero emission strategy
The Port of Kristiansand aims to be a leading environmental port that contributes to restructuring in the maritime industry, and it actively contributes to Kristiansand municipality's goal of reducing greenhouse gas emissions by 80% by 2030. Electric Region Agder was established in 2018 and its ambition is to electrify the region 100%.
The Port of Kristiansand has been a leader in Norway in quayside electrification and the transfer of ships to shore power.
The port currently has Northern Europe's largest facility for shore power.
The fact that Kristiansand is a transport hub offers good opportunities to develop and provide new forms of energy, such as hydrogen and ammonia. Fixed ferry connections to Denmark and the Netherlands, as well as fixed container and bulk shipping routes, provide opportunities to restructure shipping. Other forms of emission-free solutions are continuously being developed, and it was decided in June that Kristiansand would be the location for one of 5 hydrogen hubs in Norway.